76design Takes Home Two IABC Ottawa Excel Merit Awards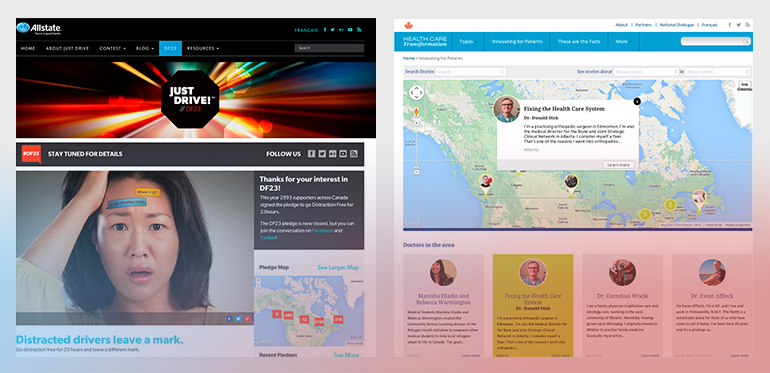 This spring IABC Ottawa announced the winners of the Excel Awards. 76design took home two Merit Awards in the Communication Skills Division: one for Digital Communication Vehicle and a second for Photography Within a Communication Vehicle.
The Innovation Map our team created for the Canadian Medical Association's Healthcare Transformation website won the communication vehicle category. Our goal with this project was to design a website that would engage citizens with the complex issues faced by Canada's healthcare system. To do this 76design created an interactive Innovation Map which allows users to learn about different health issues across the country and hear from the doctors who help resolve them. The map was built into the website and optimized for social media and use across multiple platforms.
What the IABC judges had to say:
The innovation map is a great idea for informing health care users and promoting doctors' activities. The professional execution looks very good. The layout is clean and the use of colour makes it easy to read.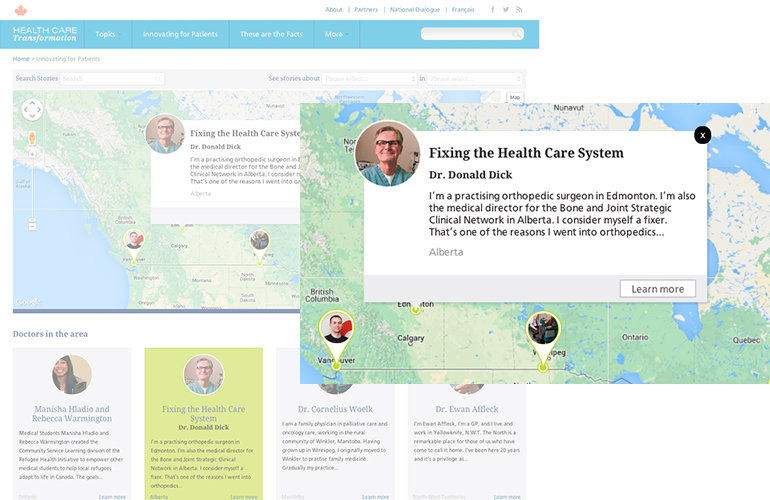 The winner for the photography category was the promotional material created for the Allstate Just Drive Contest. Allstate wanted to expand its Just Drive Contest from a media relations campaign to an interactive program. To expand the campaign we created and launched the Just Drive Canada website and optimised it for social media interaction and use across multiple platforms. We used photography to create a promotional campaign for the contest and website. This bilingual campaign featured a diverse set of youth with text messages tattooed on their foreheads. The innocuous messages were contrasted by the looks of shock and distress on the individual's faces highlighting the dangers of texting while driving.
What the IABC judges had to say:
Great use of research to support the need for increased awareness of the impact of distracted driving. The choice of imagery was very professional. It uses a young diverse audience, is provided in both languages and the tattoos provide emotional impact.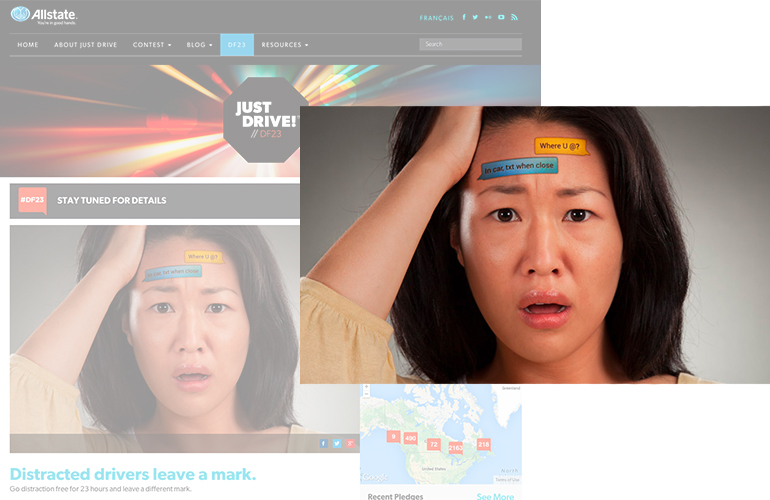 76design works closely with clients to determine the best way to connect and engage our audience. This year our team excelled in marrying innovation and research to develop top of the line websites and digital campaigns. Take a look at our approach and past projects to get better understanding of how we look at design.